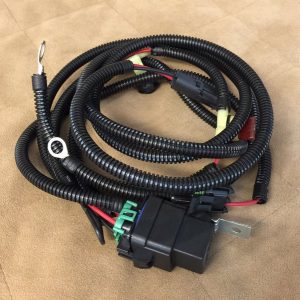 | | |
| --- | --- |
| Product Price: | USD 150.00 |
(((NOTICE))) All international customers (NON USA CUSTOMERS!!!) only. DO NOT BUY FROM THE WEB SITE!!. Please request an invoice by email. Include your postal code and a list of items wanted. I will reply with a total. Thank you. 
All of the electrical load is taken off your stock system and transferred to the harness witch is built to handle it. This harness still relies on your stock electrical system to function so that all safety features of it remain. With the standard added switch you can turn on the LP from under the hood anytime you like. This is great after changing the fuel filter to purge the air out.
This harness is also recommended for WHLP to better support the load of the more powerful lift pump.
On the 99-02 Hummer they comes from the factory with Wait To Start (WTS) priming, so we don't add it to this kit thus the price is less.