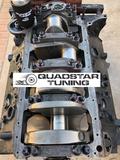 | | |
| --- | --- |
| Product Price: | USD 360.00 |
Exclusive ARP 8740 chromoly steel main stud kits!  We highly recommend these for any 6.2L or 6.5L diesel build to address the main web cracking issues.  If we won't build one without them, you shouldn't either!  Made in the USA with a 190,000 psi tensile-strength rating. They are precision centerless-ground and thread-rolled to Mil-S-8879 specs, with a black oxide finish for corrosion resistance.
The kits come complete with hardened washers and high-strength 12pt hex nuts.  They do not come with a "girdle" because we have no proof that tying the caps together will benefit you in any way on top of using the studs alone.  However, you can fit one to them if desired since they have enough thread length.  The P400 block is the only one that fully addresses a girdle properly with its bed plate design.
Two styles are available due to variations in block designs. Please select the one you need before adding to the cart and message us with any questions:
Each kit includes ARP Ultra Torque moly lube, 20 studs, 20 nuts and 20 washers for complete main cap coverage!
1997 & Earlier #599, #141, etc. with 12mm outer main fasteners

Compatible with 6.2 and 6.5 blocks

1997.5 & Later #506 with 10mm outer main fasteners

Our kit is the only one that provides complete main stud coverage for the 506 blocks!
New for 2018! These are custom engineered for us by ARP, per our specifications, using blocks that we provided to measure.  Thanks to all our customers for helping make these a reality!